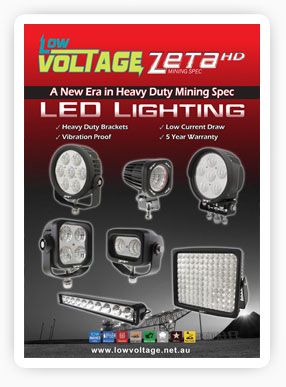 Powerful New LED Lighting From Low Voltage
LED lighting has certainly come a long way. As technology improves, so does light output. Low Voltage continues to be innovative and provide customers with the latest technology in LED lighting products.

New to the Low Voltage lighting stable is the ZETA HD range of 15 Watt LED light bars. This new range starts with a 4 x 15 Watt light bar which produces 4800 lumens yet measures only 236mm long and finishes with a 20 x 15 Watt version which produces an astonishing 24,000 lumens.

All of these new light bars feature a Die-cast Aluminium Housing, UV Coated Polycarbonate Lens, pre wired cable lead with a 2 Pin Deutsch connector, IP Rating of 68 and Stainless steel mounting hardware.

All models are available in either a 40˚ Flood Beam or 15˚ Spot Beam pattern to suit a wide variety of applications. They also feature bottom rail mount to make mounting the light bars as easy as possible and allowing the installer to utilise existing mounting points.

The new ZETA HD LED lighting range also has all of your LED work light requirements covered. All models in the ZETA HD range feature heavy duty Stainless Steel brackets, Vibration rating of 8.6G, IP68, genuine Deutsch connectors and an impressive 5 Year Warranty.

Starting with the little LV9000 1 x 10W Led work light through to the monster 600 Watt LED Scene Light which produces an impressive 48,000 lumens, Low Voltage has a work light for every application.