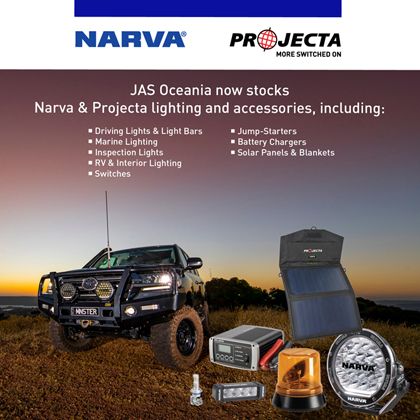 JAS Oceania now stocks NARVA and Projecta lighting and accessories
JAS Oceania are now proud distributors of NARVA and Projecta products across Australia. With the introduction of this range, customers receive spot-on choice and availability at JAS Oceania.
There are many synergies between JAS Oceania and the NARVA and Projecta brands that will make the partnership a strong success.
As a specialist supplier of automotive electrical products, JAS can supply the right part first time on the complete range of quality NARVA and Projecta parts.
The initial product range includes over 4,000 product lines (SKU's) introduced across the JAS Oceania network of 35 locations. The range focuses on lighting and accessories, including driving lights, lightbars, marine, inspection, RV and Interior lighting and switches in NARVA and jump-starters, battery chargers, solar panels in Projecta to just list a few.
JAS Oceania has long been known as a trusted provider of well-known brands, quality aftermarket products with an extensive range, local availability and support to Auto Electricians. The partnership offers Auto Electricians a complete solution for quality product backed by technical support and in-store merchandise sales capability.
To view the full announcement, click the image above, right.