WIN The Ultimate Summer Setup with Alcius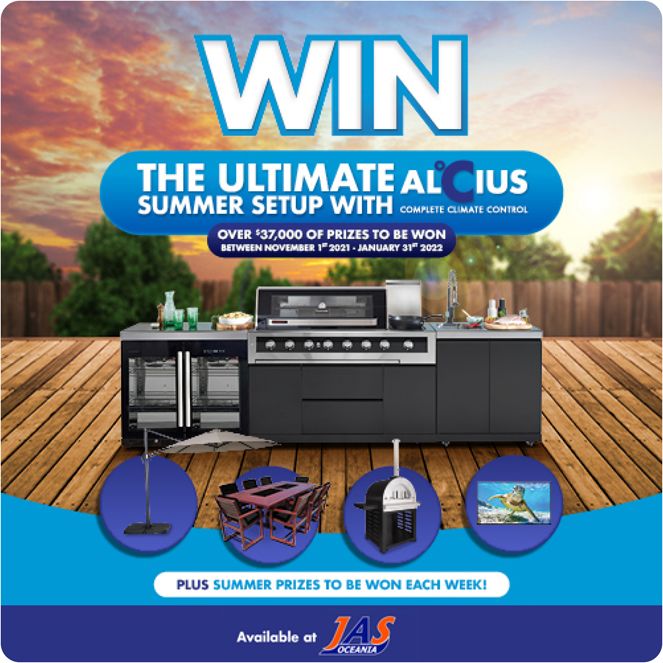 Australia's most comprehensive range of climate control parts, tools and equipment for the automotive aftermarket, Alcius, has launched a national trade promotion from 1 November 2021 to 31 January 2022, across its entire product range!
Purchase any Alcius products over $200 in 1 transaction with JAS Oceania; go to Alcius.com.au and enter to win the Ultimate Summer Set up, along with some great weekly prize draws.
The major prize on offer to one lucky trade customer is the Ultimate Summer Set Up, valued at $19,165, and it includes:
• Gasmate Galaxy Black Hood LPG Outdoor Kitchen
• Samsung 65-inch The Terrace 4K QLED Smart TV
• Marquise 9-Piece Outdoor Rectangular Dining Setting
• Cyrus 300cm Square Cantilever Outdoor Umbrella
• Masport Woodfire Pizza Oven with Cover
• Fire Pit BBQ 30-inch Grill / Portable Fireplace
With a vast range across all major air conditioning groups, including compressors, condensers, evaporators, receiver driers, fans, blower motors, TX valves, AC accessories, tools and equipment, JAS has the complete Alcius climate control range to have your repair done right the first time.
WEEK ONE WINNERS
BeefEater BUGG BBQ:
Caltabiano, Caltabiano's Automotive Repair
Alcius BBQ Tool Kit:
P. Thompson, Thompson Auto Electrics (x2)
Pace, North Jacklin
Lee, About Auto Electrical
WEEK TWO WINNERS
Husky 46L Door Bar Fridge:
Mick Harding, Reefside Auto Electrics and Airconditioning Pty Ltd - Mackay
Alcius BBQ Tool Kit:
Neil Mann, NR Mann Automotive Electrical - Albury
Gavin Davis, NQ COOLECTRIX – Townsville (x2)
Craig Brehaut, Bridge Autospark - Adelaide
WEEK THREE AND FOUR WINNERS
Alcius BBQ Tool Kit:
WEEK THREE:
Ross Mcleod, Auto electrical solutions- Sunshine Coast
Eugene Galati, Eugene's Auto Electrical– Cairns
Clint Maltby, Maltby's Heavy Duty- Townsville
Allan Batterson, Als Auto Electrical – Sunshine Coast
WEEK FOUR:
Craig Brehaut, Bridge Autospark – Adelaide
Stephen Gawthorne, Black Diamond Auto Electrics – Wollongong (x2)
Robert Timms, Timmsy's Auto Air – Townsville
WEEK FIVE AND SIX WINNERS
WEEK FIVE:
BeefEater BUGG BBQ:
Mark Garvey, Harmac Auto Electrics – Sunshine Coast
Alcius BBQ Tool Kit:
Justin Bailey, Justin Bailey Auto Electrical and Air Conditioning- Gold Coast
Mick Harding, Reefside Auto Electrics and Airconditioning Pty Ltd– Mackay
WEEK SIX:
Husky 46L Door Bar Fridge:
Peter Russo, Peter Alfred Russo - Townsville
Alcius BBQ Tool Kit:
Justin Richmond, DASHBOARD FITTING SERVICES- Brisbane
Zac Schonberger, DETOUR COACHES– Townsville
Darrel Daymond, DJ and NA Daymond– Dubbo
Mick Harding, Reefside Auto Electrics and Airconditioning Pty Ltd– Mackay
WEEK SEVEN WINNERS
Alcius BBQ Tool Kit:
Steven Kildey, Killa Kustom Kables- Caboolture
Tom Langtrees, Langtrees Machinery Services– Townsville (x2)
Gezim Bashi, Bashi's Auto Electrics – Caboolture
WEEK EIGHT WINNERS
Alcius BBQ Tool Kit:
Christopher Aylen, Mideast Car Air Con and Radiator – Bayswater
Daniel Ridley, Rapid Tune Kilsyth - Bayswater
Ramsunkur Vik, Vik Mobile Workshop Pty Ltd - Bayswater
Justin Bailey, Justin Bailey Auto Electrical and Air Conditioning- Gold Coast
WEEK NINE WINNERS
No Valid Entries
WEEK TEN AND ELEVEN WINNERS
WEEK TEN:
BeefEater BUGG BBQ:
Dale Adcock, FNQ Auto Air - Townsville
Alcius BBQ Tool Kit:
Michael Lean, Motoco Group- Townsville
Darrel Daymond, DJ and NA Daymond– Dubbo
Shane Downes, DOWNTIME SOLUTIONS– Townsville
Stacey Bucknell, WOODS AUTO ELECTRICS– Cairns
WEEK ELEVEN:
Husky 46L Door Bar Fridge:
Arthur Wright, A and D AUTO ELECTRICAL- Townsville
Alcius BBQ Tool Kit:
Gavin Davis, NQ COOLECTRIX – Townsville (x2)
Michael Lean, Motoco Group- Townsville
Shannon White, SHANNON'S AUTO ELECTRICAL– Townsville
WEEK TWELVE AND THIRTEEN WINNERS
WEEK TWELVE:
Alcius BBQ Tool Kit:
Clint Maltby, Maltby's Heavy Duty - Townsville
Bernie Kruger, BITS FOR CARS – Townsville
Craig Brehaut, Bridge Autospark – Adelaide
Gavin Davis, NQ COOLECTRIX – Townsville
WEEK THIRTEEN:
Justin Bailey, Justin Bailey Auto Electrical and Air Conditioning- Gold Coast (x3)
Samantha Baird, Radiators R Us– Epping