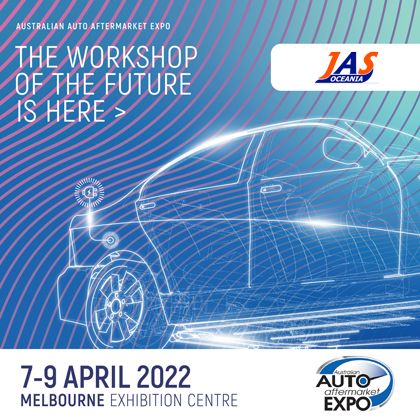 JAS Oceania @ the Australia Auto Aftermarket Expo
JAS Oceania is excited to be exhibiting at the Australian Auto-Aftermarket Expo held at the Melbourne Convention & Exhibition Centre between the 7th and 9th April 2022.
The Expo showcases the latest vehicle repair and servicing equipment, parts, tools and accessories, new technology and trends, an Awards evening plus a comprehensive training and education program and much more.
JAS Oceania invites you to visit us at stand N2 at the Expo, including our Technical Training Team launch. Come and speak with JAS auto electrical parts, repair, sales and service industry experts Mark Bailey and Paul Keenan, who share a collective 85 years of industry experience.
With the constant technological development in vehicles, we have always recognised the importance of training to best support what customers are facing in the field.
TECHNICAL ADVICE, SHORT COURSE TRAINING, DIAGNOSTIC SUPPORT
The Technical Team will be available to discuss technical questions, including the JAS training program and take you through live demonstrations on the rotating electrical test bench and refrigerant simulator we will have on the stand at the event. Plus demonstrations on many innovative and versatile LV 4505 Alternator Sensing Relay applications.
We will also have other fantastic activities on the stand, come and visit us at the Expo to check them out.
- View and inspect the JAS and Alcius products on display
- Chat with our technical team and product experts
- Enter the fantastic door prize
- Experience the live demonstrations on our test bench and simulator
- Plus, more…
To register for the auto expo, click here.
We hope to see you there.