LV Power Connector Panels
New solutions in LV Power Connectors Panels for the RV market
There is an increasing trend for additional DC power and connections in 4x4 and utility vehicles, to support the growing towing and accessory items used in 4x4 camping and recreation.
Availability of locations/positions in vehicles to fit multiple connectors and socket terminals is at a premium. The requirement for connections of camper-trailers, caravans, boat trailers, and accessories such as inverters, mobile phone chargers, portable fridges and so on is stretching the availability of space.
To help with this issue JAS Oceania has increased their range of connector and socket panels suitable for a wide range of customer recreational application requirements.
With an already broad choice of connectors, sockets and plug accessories in the quality LV range, JAS Oceania has extended the range to provide more convenient options to choose from. The added bonus with these ports is they provide both additional power access and connector terminals in the same unit, giving an economic use of space with the full convenience of multiple ports.
The black polycarbonate panel units have a flush mount styling, using countersunk screws for a sleek finish when installed.
The all-new panels feature a 50 Amp Anderson style connector (LV2454) and some with either a 20A DC connector (LV2455), Twin USB ports (LV2456), or even a secondary Anderson style connector (LV2457).
JAS Oceania have these products available nationally to purchase online, or register for an online account here.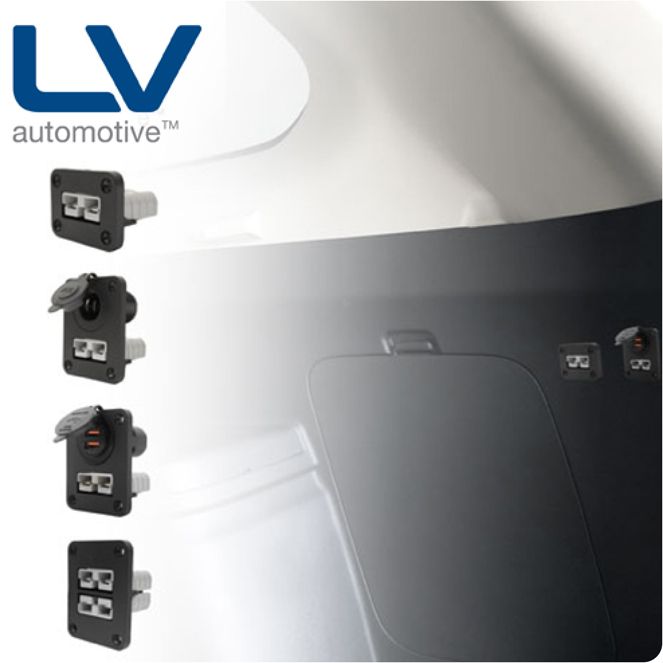 The 4 variants of LV Power Connector Panels are flush mount for a sleek finish when installed.
1. 50A Anderson Connector style – LV2454
2. 50A Anderson Connector style & DC Socket – LV2455
3. 50A Anderson Connector style & Twin USB Ports: 2.4A/3.0A (Fast Charge & Quick Charge) – LV2456
4. Dual 50A Anderson Connector style – LV2457