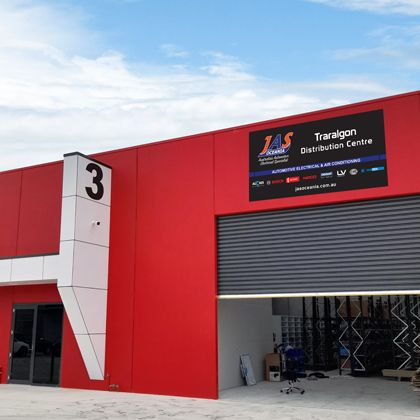 JAS Opens Traralgon Branch
JAS Oceania are excited to announce the opening of their 35th branch in Traralgon, Victoria. Conveniently located, the facility will be able to service the Gippsland region, from Drouin down to Orbost, and all the local areas in between. The addition of this new site will bring a new level of service, and support to the region.
The JAS Traralgon branch will be fully stocked with fast moving Starter Motors and Alternators. Along with our range of rotating electrical products, we'll also stock a wide range of aftermarket accessories, workshop consumables and lighting.
JAS will include a comprehensive amount of Air Conditioning (Alcius) product from their over 4000 parts covering more than 6,500 applications across a broad range of genuine OE brands and aftermarket automotive air conditioning components. Plus, the latest product expansion includes over 500 new compressors, condensers, evaporators, and cooling fans.
This new location will also cater for improved distribution times to our customers in the region.
Managing the site will be a familiar face to all the customers within the area, Mitch Matheson. Mitch, has worked in the industry for the last 8 years servicing this area as a phone salesman, moving into account management and now as the Branch Manager of JAS Traralgon. Working closely alongside Mitch Matheson will be Mitchell Stone. Mitchell Stone comes with a wealth of knowledge from his background working in the industry and most recently spending the last 2 years working at our Bayswater branch.
The team look forward to speaking to you soon and getting to know our new customer base.
Located at:
3 / 8 Wheeldon Court
Traralgon VIC 3844
Phone: (03) 5177 1500