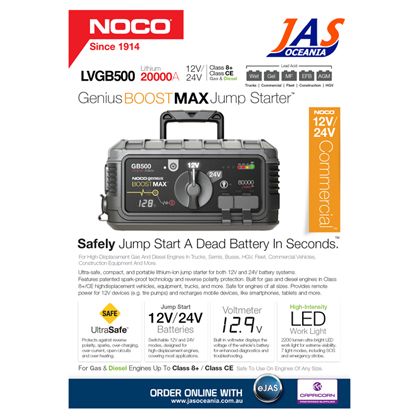 NOCO – Lithium Jump Starter - now available from JAS Oceania
The massive power of the NOCO LVGB500 Boost Max™ 12/24V lithium jump starter is one of the most powerful jump starters available in Australia.
With patented Ultrasafe ™ in-built safety protection allows the unit to be connected to any battery safely. Rated at 20,000 amp, the NOCO Boost Max™ is 400 percent lighter than traditional lead acid jump starters capable of jump starting Class8+/CE vehicles and equipment.
Designed for both 12 volt and 24 volt applications, the NOCO LVGB500 is ideal for Government, Fleet, Transport, Mining and Civil industries.
The NOCO Boost Max ™ is the latest addition to Genius range of lithium jump starters available from JAS Oceania. Power like never before.