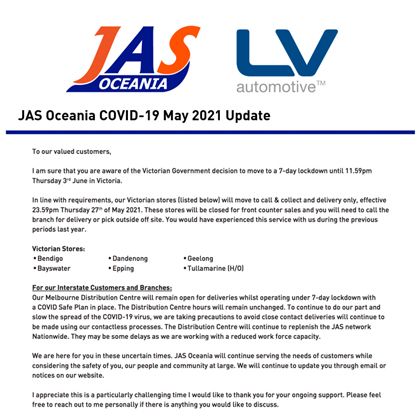 JAS Oceania COVID-19 May Update
To our valued customers,
I am sure that you are aware of the Victorian Government decision to move to a 7-day lockdown until 11.59pm Thursday 3rd June in Victoria. In line with requirements, our Victorian stores (listed below) will move to call and collect and delivery only, effective 23.59pm Thursday 27th of May 2021. These stores will be closed for front counter sales and you will need to call the branch for delivery or pick outside off site. You would have experienced this service with us during the previous periods last year.
•Bendigo
•Dandenong
•Geelong
•Bayswater
•Epping
•Tullamarine (H/O)
For our Interstate Customers and Branches:
Our Melbourne Distribution Centre will remain open for deliveries whilst operating under 7-day lockdown with a COVID Safe Plan in place. Distribution Centre hours will remain unchanged. To continue to do our part and slow the spread of the COVID-19 virus, we are taking precautions to avoid close contact deliveries will continue to be made using our contactless processes. The Distribution Centre will continue to replenish the JAS network Nationwide. They may be some delays as we are working with a reduced work force capacity.
We are here for you in these uncertain times. JAS Oceania will continue serving the needs of customers while considering the safety of you, our people and community at large. We will continue to update you through email or notices on our website.