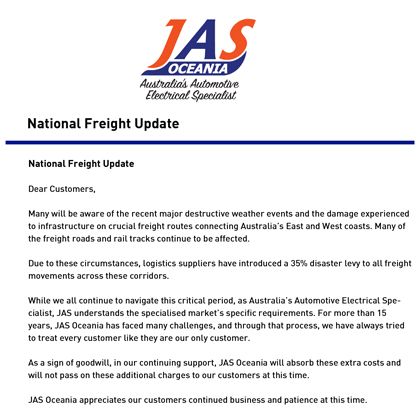 JAS Oceania National Freight Update
Dear Customers,
Many will be aware of the recent major destructive weather events and the damage experienced to infrastructure on crucial freight routes connecting Australia's East and West coasts. Many of the freight roads and rail tracks continue to be affected.
Due to these circumstances, logistics suppliers have introduced a 35% disaster levy to all freight movements across these corridors.
While we all continue to navigate this critical period, as Australia's Automotive Electrical Specialist, JAS understands the specialised market's specific requirements. For more than 15 years, JAS Oceania has faced many challenges, and through that process, we have always tried to treat every customer like they are our only customer.
As a sign of goodwill, in our continuing support, JAS Oceania will absorb these extra costs and will not pass on these additional charges to our customers at this time.
JAS Oceania appreciates our customers continued business and patience at this time.
If you have any questions, please don't hesitate to contact me or our Operations and Logistics Manager, Denis Wilson.
Email: dwilson@jasoceania.com.au or gbonney@jasoceania.com.au
Denis Wilson: 0428 123 291
Regards,
Graham Bonney
General Manager JAS Oceania