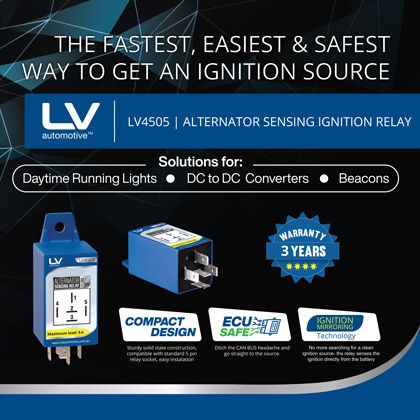 JAS introduces a new solution for a fast, easy and secure ignition source
Australia's leading automotive electrical specialist, JAS Oceania, is now supplying an innovative product that provides a vehicle ignition source quickly, easily and importantly, safely. The LV Alternator Sensing Ignition Relay 12/24V provides a compact design and is ECU safe.
As an Auto Electrical Specialist, JAS Oceania likes to source our customers' latest and greatest products.
It will supply a ready solution for daytime running lights, DC to DC converters and beacons and comes with a three-year warranty
JAS Oceania is thrilled to introduce this new product into the stable for the LV Automotive brand. The LV Automotive brand from JAS Oceania is a trusted leader in the Australian market for quality and reliability. Offering the latest technology and durable components makes them ideal for various applications.
The Alternator Sensing Relay provides a great solution as it has the same footprint as the 5-pin mini relay, and it's ECU safe. Plus, it removes the headache of dealing with a CANBUS system for an ignition source.
The LV Alternator Sensing Ignition Relay 12/24V can be installed with as little as three wires and is a sturdy, solid-state construction with no moving parts. It also offers zero risk to CAN or ECU lines.
JAS have the LV Alternator Sensing Ignition Relay 12/24V is available nationally. Check out the product now via eJAS online or register for an online account here.